Welcome to the Active Duty Dental Program Government
and Program Administrator's Portal
Your Online Information Resource
Overview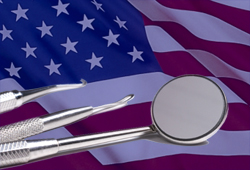 United Concordia Companies, Inc., (United Concordia) administers the Department of Defense's Active Duty Dental Program (ADDP) to all eligible active duty uniformed service members. This program began August 1, 2009, and replaced the Military Medical Support Office's (MMSO) administration of service member private sector dental care.*
The ADDP provides private sector dental care to ensure dental health and deployment readiness for active duty service members (ADSMs). The ADDP provides dental care to ADSMs who are unable to receive required care from a military dental treatment facility (DTF). United Concordia will coordinate an appointment for routine dental care (e.g., examinations, cleanings, fillings) within 21 calendar days of request and 28 calendar days for specialty dental care (e.g., crowns, bridges, dentures, periodontal treatment).
The ADDP provides authorized civilian dental care under two distinct components for ADSMs who are either:
Referred from a military dental treatment facility (DTF)
(DTF-referred)
Or
Reside and work (duty location) greater than 50 miles from a military DTF as
part of the
Remote Active Duty Dental Program
The ADDP is available in the United States, U.S. Virgin Islands, Guam, Puerto Rico, American Samoa, and the Northern Mariana Islands.
United Concordia pays claims for dental care under the ADDP. Treatment must be provided by a United Concordia network dentist in order to be eligible for payment, unless otherwise approved by United Concordia.
*Dental care for ADSMs of the Commissioned Corps of the Public Health Service (PHS) is covered independently by the PHS.