Claims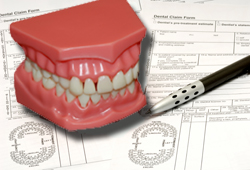 United Concordia network dentists will complete all treatment documentation and submit it with the claim to United Concordia for payment.
All private sector dental care must be received from a United Concordia network dentist to be eligible for payment. United Concordia will pay claims for those areas where there are no available network dentists. Contact United Concordia at 1-866-984-ADDP (2337) for more information.
If United Concordia has approved utilization of a non-network dentist for treatment, the ADSM may be required to file his/her own claim. United Concordia will accept claims filed on any standard dental claim form of the American Dental Association (ADA) or on the ADDP Claim Form. This form can be printed, completed and mailed to United Concordia.
Claim Submission
ADSMs who have been authorized by United Concordia to receive dental care from a non-network dentist may have to submit their own claims. If so, it is important that all of the appropriate information is provided. Failure to provide the necessary information can result in a claim payment being denied.
If an ADSMs has to file his/her own claim(s), it is important to include the following information on the claim(s) form:
Date(s) of service
Specific problem encountered
Procedure Code(s)
Specific tooth/teeth treated for each service performed
Total charges
ACN
Dental Readiness Classification
A complete description of the service performed, including applicable tooth/ teeth numbers, if a procedure code is not provided
They will also need to include a dentist's bill or statement of charges if the specific service(s) provided are not found on the claim form.
Understand the DEOB
After a claim has been processed, the ADSM will receive a Dental Explanation of Benefits in the mail that shows the dental claims the civilian dentist submitted and how United Concordia processed the claim.
Simply put, the DEOB statement is an important record of the ADSM's dental services and benefit coverage.
See the sample DEOB to understand the information it provides.
Deadline for Filing Claims
Claim forms should be submitted to United Concordia as soon as possible after the service, preferably within 60 days. Claims submitted more than 12 months after the month in which the service was provided will be denied.
Claims Submission Address
United Concordia Companies, Inc.
ADDP Claims
P.O. Box 69429
Harrisburg, PA 17106-9429