Welcome to the Active Duty Dental Program Portal
Your Online Information Resource
Overview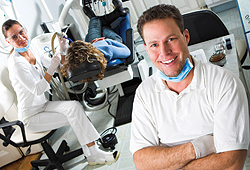 *** Beginning December 8, 2017, dental offices will be prompted to change their online account password every 90 days. Changing your password now will assure your changed password will be valid for 90 days and available for use after this requirement is effective. ***
The Active Duty Dental Program (ADDP) is a comprehensive dental plan offered by the Department of Defense (DoD) to all active duty service members (ADSMs) of the Uniformed Services, which includes:
U.S. Air Force
U.S. Army
U.S. Coast Guard
U.S. Marine Corps
U.S. Navy
National Oceanic and Atmospheric Administration (NOAA)
National Guard and Reserve Component Sponsors (called or ordered to active duty for more than 30 consecutive days)
The ADDP has two components:
Military Dental Treatment Facility referred care (DTF-referred care)

- provides dental coverage for Active Duty Service Members (ADSMs) referred to a civilian network dentist from a military Dental Treatment Facility (DTF) for civilian care. Under these circumstances, the DTF acts as the referral and approval authority for care.

Remote Active Duty Dental Program

- provides dental coverage for ADSMs on continuous active duty orders for more than 30 days with a duty location and residence greater than 50 miles from a military DTF.

The purpose of the Remote ADDP is to augment, not replace, dental care provided at military DTFs. Appropriate treatment needed to establish or maintain dental health to meet worldwide readiness requirements will be considered for authorization and processing for payment. For all procedures appropriately authorized, there is no deductible or co-payment maximums required of the ADSM.
Under the ADDP, ADSMs will be referred to a United Concordia participating dentist. If the member must visit a non-participating dentist, all care regardless of cost or treatment category must be authorized by United Concordia. A member can also utilize a non-participating dentist for emergency care. When using a non-network dentist, the ADSM must ensure that the dentist will complete and submit the request for reimbursement.