Participating with United Concordia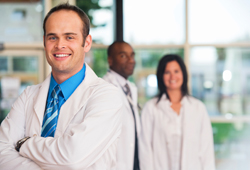 Active duty service members (ADSMs) may receive dental care from any United Concordia ADDP Dental Network participating dentist.
A licensed dentist, who is not currently excluded, sanctioned or suspended by their licensing authority, is eligible to become a United Concordia participating dentist. Participating dentists agree to accept United Concordia's allowance as payment in full for covered services and submit claims to United Concordia on behalf of the ADSM.
Advantages of Participation
United Concordia has participating dentists in every clinical specialty, and in all 50 United States, the District of Columbia, Guam, Puerto Rico, and the U.S. Virgin Islands. United Concordia is dedicated to fostering a mutually beneficial relationship with our ADDP Dental Network participating dentists. You will benefit from being a participating provider by:
Being eligible to treat any of the 1.4 million active duty service members nationwide
Being listed on our 'Find a Dentist' online provider directories
Having access to dedicated ADDP United Concordia staff to assist with your program questions and concerns
Having access to a suite of our online tools and services to run your office more efficiently, such as: Provider Data Online, Patient Data Tracker, Speed eClaim®, DART®+ and Provider Check Information
Having access to ADDP online Training Materials and the Dental Reference Guide to easily locate answers to your ADDP questions
Discount Pricing on Sterilization Monitoring
Free Davis Vision Discount Program for your dental office staff
DDS Lab Discounts (Offering exclusive pricing on dental lab products and services, such as implants, as well as continuing education opportunities)
Electronic Funds Transfer (EFT) for your claim payments (also known as Direct Deposit)
How to Become a Participating Dentist
To be eligible to participate in United Concordia's ADDP Dental Network, a dentist must:
Demonstrate a Utilization Review Pattern acceptable to United Concordia.
Complete a United Concordia Credentialing Application (the law requires dentists in certain states to submit a state specific application).
Complete a signed Participating Dentist Agreement with United Concordia Companies, Inc.
Hold an active, valid license to practice dentistry in the state(s) in which he/she practices.
Hold current professional liability insurance.
Have no current sanction, termination or other peer review action by a professional review body; state dental board or Health and Human Service (HHS).
Hold an active unrestricted federal Drug Enforcement Agency (DEA) certificate, if applicable.
Additional information may be necessary in certain states due to state specific requirements.
All paperwork and supporting documentation should be submitted via web form, email, or fax.

Join online once you've completed the Credentialing Application and Agreement.

Join Online
Email: providerrequests@ucci.com
You will be notified in writing of your assigned provider number and effective date of participation.