Fraud and Abuse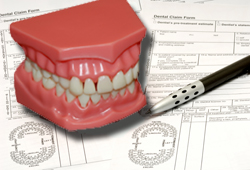 United Concordia takes a strong stand against fraudulent and abusive practices. Fraud and abuse can take many forms, including:
Submitting claims for services not rendered
Submitting claims for non-covered services disguised as covered benefit services
Identity thefts submitting claims for a non-eligible individual as a covered beneficiary
Duplicate claim submissions
Misrepresentation by the dentist of his or her credentials
Concealment of information (by the dentist) regarding business practices which disqualify him or her as an authorized ADDP provider
Improper billing practices, including submitting claims for unnecessary dental services
Routine waiver of member cost-share
Reporting Fraud and Abuse
If you believe a dentist or entity has received insurance money through the submission of a false claim, you should report this information to the Special Investigations Unit (SIU). United Concordia provides several ways for enrollees to contact the SIU:
Use the Online Fraud Complaint Form
To submit written correspondence, download the pdf file for printing and send to:

United Concordia Companies, Inc.
Special Investigations Unit
4401 Deer Path Road
Harrisburg, PA 17110
Fax: 717-260-7204
Contact the toll-free "Fraud Hotline" at 1-877-968-7455.
The SIU maintains a 24-hour confidential voice mailbox for reporting suspected fraud.