PPO Network Credentialing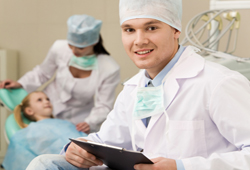 United Concordia's credentialing process is intended to ensure that ADSMs who select a participating dentist anywhere in the country can be confident that the dentist has met minimal, uniform requirements.
The process involves a screening of dentists applying for participation (selection) and a regular evaluation of those already a part of our networks (retention). The decision to accept or retain a dentist is based on all available information.
To be eligible to participate in United Concordia's ADDP Dental Network a dentist must:
Demonstrate a Utilization Review Pattern acceptable to United Concordia.
Complete a signed Participating Dentist Agreement with United Concordia Companies, Inc.
Complete a Participating Credentialing Application.
Hold an active, valid license to practice dentistry in the state(s) in which he/she practices.
Hold current professional liability insurance.
Have no current sanction, termination or other peer review action by a professional review body; state dental board or Health and Human Service.
Hold an active unrestricted federal Drug Enforcement Agency (DEA) certificate, if applicable.